Last updated: March 2021
I'm a bit of an academic mutt: I have a PhD in Communication (Nanyang Technological University, Singapore), a Master's degree in Public Policy (University of Malaya, Malaysia), and a Bachelor's degree in Information Systems Engineering (UTAR, Malaysia).
Upon receiving my doctorate, I returned to Malaysia and worked in a think tank, Institute of Strategic and International Studies (ISIS) Malaysia, in its department that worked on sustainable development. Since leaving the think tank I have been working mostly freelance on commissioned research projects, except for a year (2017) when I worked on managing the communications for a regional NGO, Innovation for Change - East Asia.
Most of my work has been within civil society even though I've lectured part time in Monash University, Malaysia. In 2020 I received an International Research and Collaboration Award from the University of Cambridge, under their Department of History and Philosophy of Science, for their Mellon Sawyer Seminar entitled 'Histories of AI: A Genealogy of Power'. The fellowship runs for a year from May 2020 to April 2021, even though their main event has been pushed to July 2021, given the current circumstances of Covid-19.
---
In this section you will find some information about my research interests, a list of published works, and some research ideas that I've proposed in the past. More details on specific projects can be found in the Projects section. Just jump to the sub-section that you are interested in:
---
My Research Interests

permalink
My research interests are rather wide-ranging and often have an advocacy angle to them. For the time being, the main themes that I've explored are sustainable development, human rights, and digital communication. As time passed, my research interests gradually transitioned from digital communication to sustainable development, and back to digital communication, generally underpinned by a human rights focus. The intersections between the themes fascinate me. At the moment I am looking at digital rights, and artificial intelligence and human rights, within the context of Southeast Asia.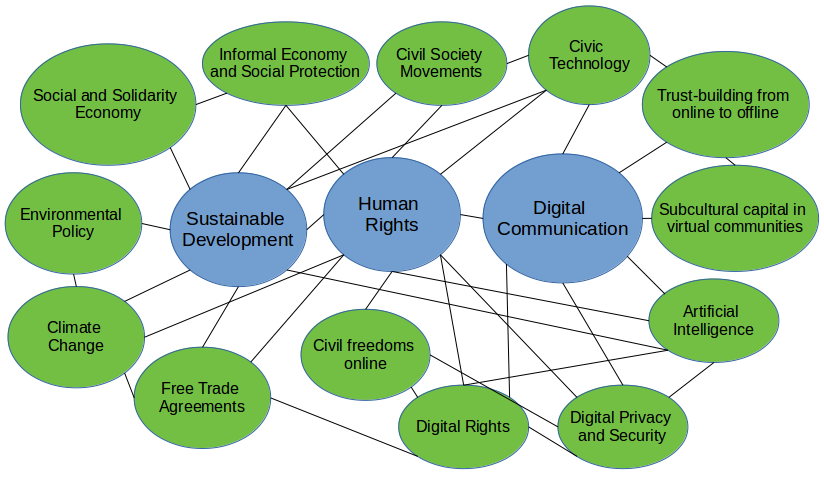 Some elaborations to give more context:
You can find the specific research projects in the Projects section.
---
My Published Works

permalink
Articles
Academic papers
I'm adding the files for download that I can - unfortunately some of the older papers are archived somewhere in some hard drive and I haven't mustered the motivation to go and locate them.
Tan, J.-E. (2019). "Digital Rights in Southeast Asia: Conceptual Framework and Movement Building". In Y.H. Khoo & D. Simanjundtak (Eds.), Exploring the Nexus between Technologies and Human Rights: Opportunities and Challenges for Southeast Asia. Bangkok: SHAPE-SEA (Download)
Tan, J.-E. (2016). Social and Solidarity Economy for Sustainable Development in Malaysia: Concepts, Contexts and Case Studies. (UKM Ethnic Studies Paper Series No. 51, September 2016). Bangi: Universiti Kebangsaan Malaysia (Download)
Tan, J.-E. (2016). Freedom of Association and Assembly (FoAA) online in Malaysia: Overview and Case Studies in Malaysia. Kuala Lumpur: Association for Progressive Communications (Download)
Tan, J.-E. (2016). "Social Protection and the Informal Economy in Malaysia". In Japan National Committee for Pacific Economic Cooperation (JANCPEC) (Ed.), Towards a More Resilient Society: Lessons from Economic Crises. Tokyo: The Japan Institute of International Affairs (JIIA) (Download)
Tan, J.-E. (2013). Building Trust In Electronic-To-Face Social Network Sites: Case Study Of Couchsurfing.Org, Dissertation in fulfilment of a PhD in Communication of the Wee Kim Wee School of Communication and Information (WKWSCI), Nanyang Technological University, Singapore. (Download)
Tan, J.-E. (2013). "Performing Cosmopolitanism as Subcultural Capital: A Macro-level View of Trust on Couchsurfing.org". In S. Buchberger & D. Picard (Eds.), CouchSurfing Cosmopolitanisms: Can Tourism Make a Better World? Surrey: Ashgate.
Tan, J.-E. (2010). "The Leap of Faith from Online to Offline: An Exploratory Study of Couchsurfing.org". In A. Acquisti, S. Smith & A.-R.Sadeghi (Eds.), Trust and Trustworthy Computing (Vol. 6101, pp. 367-380): Springer Berlin / Heidelberg.
Gayoso, G. M., Tan, J. -E., Mazumdar, S. &Liu, Q.Y. (2009). Homosexuality in Films: Trends of Portrayal in Hollywood and Asia. Media Asia, 36(1), 38-46.
Tan, J.-E. & Zawawi Ibrahim (2008) Blogging and Democratization in Malaysia - A New Civil Society in the Making. Petaling Jaya: SIRD
Part of my work as a researcher is to write research proposals when I'm bidding for projects or research work. These proposals often take a long time to craft and to tailor to the application. Due to the breadth of my research interests I'm also often making proposals that are outside of my comfort zone, adding to the time spent on each proposal. Instead of letting the rejected proposals languish in some corner of my hard disk, I'm celebrating them and posting some of them up here for interested folks to take a look. I've not updated any of them, so here they are frozen in their time and context (without the name of the institution that I was originally applying for - and I also added my contact details to each file):